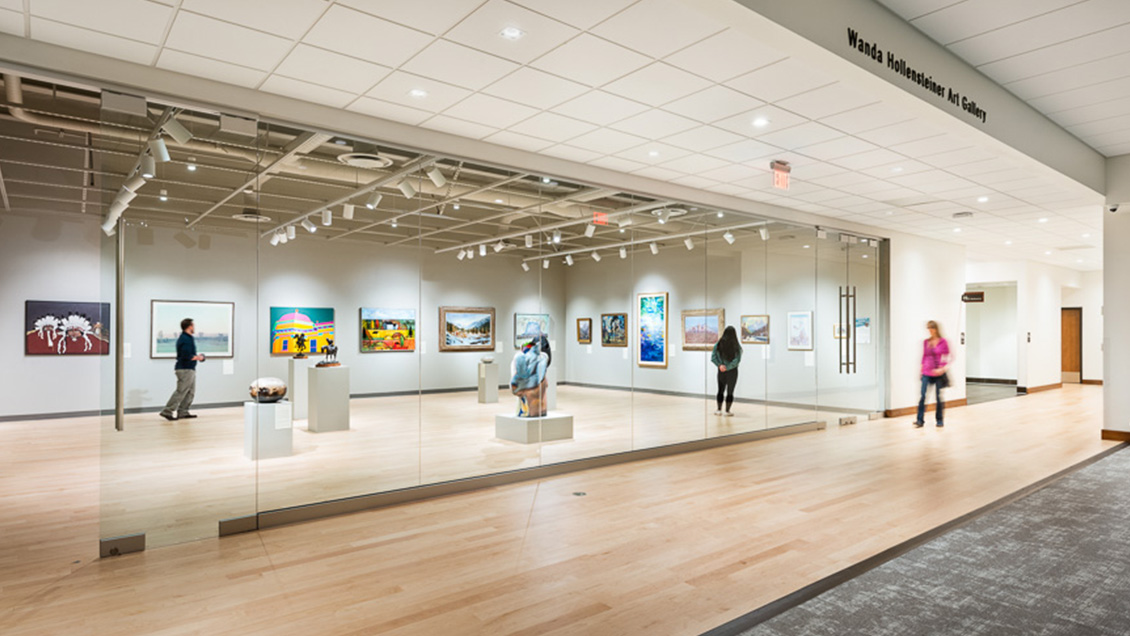 Wanda Hollensteiner Art Gallery

Throughout each season, the Wanda Hollensteiner Art Gallery features rotating art exhibits that spotlight local, regional and national artists. The gallery is open to the public on Mondays, Wednesdays and Fridays from 12pm-4pm, and to patrons with tickets to Wachholz College Center performances during show times.

CURRENT EXHIBIT
THE LEGACY OF WANDA HOLLENSTEINER - on display from June 12 - September 15, 2023

The Wanda Hollensteiner Art Gallery has been displaying art since the Wachholz College Center had its first concert last fall. The gallery was incorporated into the design of the Wachholz College Center at through the generosity of James Hollensteiner, in honor of his late wife Wanda, who was a devoted patron of art conservation. The Legacy of Wanda Hollenteiner Exhibit coincides with what would have been Wanda's birthday. This show showcases works which have benefitted from the expertise of art conservators at the Wright Museum at Beliot College in Indiana, through her support.

The Legacy of Wanda Hollenteiner exhibit will feature important Old Master artwork including original pieces by Rembrandt, Albrecht Dürer, and Henri de Toulouse Lautrec. These pieces will join a selection of distinguished 19th and 20th century art, including works by Western favorites Charlie Russell, Ace Powell, and Robert Scriver.  

THE LEGACY OF WANDA HOLLENSTEINER exhibit will be available for viewing to the public from June 12 - September 15, 2023 during gallery operating hours of 12pm-4pm, Monday, Wednesday and Friday. Patrons with tickets to WCC performances may view the exhibit during show times.